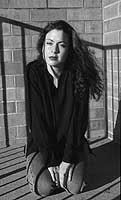 Marya Hornbacher is one of my favorite authors: Wasted is one of the best memoirs about anorexia and bulimia you will ever find.
Marya Hornbacher published her first book, Wasted: A Memoir of Anorexia and Bulimia in 1998, when she was twenty-three. What started as a crazy idea suggested by a writer friend became the classic book that has been published in sixteen languages, is taught in universities all over the world, and has, according to the thousands of letters Marya has received over the years, changed lives.
Her new book,

Madness: A Bipolar Life,

is about her discovery of her

Type I rapid-cycle bipolar disorder.
http://www.maryahornbacher.com/home.html
From Wiki:
Marya Justine Hornbacher
(born 4 April 1974) is an
American
author
and freelance
journalist
. Her book
Wasted: A Memoir of Anorexia and Bulimia
, is an autobiographical account of her struggle with eating disorders, written when she was twenty-two. It has been translated into fourteen languages and sold over a million copies in the U.S.
Wasted
was banned in many public school systems due to its many drug and alcohol references as well as repeated sexual encounters. Her second book is the critically praised 2005 novel,
The Center of Winter
, which follows a family in the aftermath of a suicide. Her third book, published in April 2008, is a memoir called
Madness: A Bipolar Life
, written after she was diagnosed with
bipolar disorder
.
Marya Hornbacher was born in Walnut Creek, California and raised in Edina, Minnesota. She is the only child of Jay and Judy Hornbacher, professional theatre actors and directors; her mother worked as a school administrator before converting to theatre. She became bulimic at age nine and developed drug and alcohol problems by age thirteen. When Hornbacher was fifteen years old, she was accepted into the prestigious arts boarding school Interlochen where she developed anorexia.
The summer following her first year at Interlochen she was hospitalized for her eating disorder and then moved in with her father's ex-wife in Northern California. While there, she met her future husband, Julian Daniel Beard, but her eating disorder steadily worsened and she was re-hospitalized after Christmas. She was released in February but readmitted again after only two weeks. Eventually her parents sent her to Lowe House, a residential treatment hospital for adolescents with severe, long-term mental problems.
After her release that summer, she enrolled in the University of Minnesota and started writing for the university's student newspaper The Minnesota Daily. At the age of eighteen, despite her continued eating disorder, she signed out of treatment. In the fall of 1992, she entered college at American University in Washington D.C. Her eating disorder rapidly worsened and by the winter she had dropped to fifty-two pounds. On a visit home to her parents, she was admitted to the ER and given one week to live.
Though Hornbacher survived her ordeal, she has been left with many physical ailments as a result, including osteoporosis, a heart murmur, and infertility. Her second autobiography, Madness, also describes a near fatal incident of cutting but Hornbacher herself seems unclear about whether or not this was an intentional attempt at suicide.