This particular "exorcism" movie really interests me, because it is loosely based on a real story.
watch more:
http://www.youtube.com/watch?v=fnGDwt01OFY
The real "Emily Rose" is a girl called Anneliese Michel.
This particular exorcism movie is the only one that disturbs me, and I have seen some messed up scary movies in my day.
Anneliese: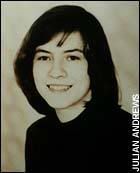 Anneliese while "possessed":
Read more